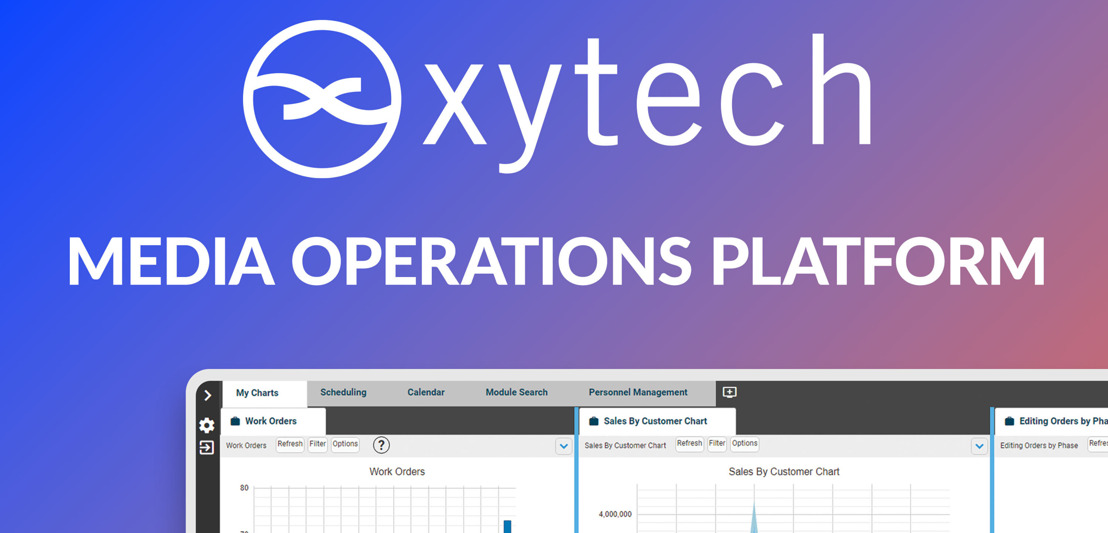 A New Approach to Media Operations: Xytech Announces Strategic Changes, New Executive Team to Support Growing Media Industry
In addition to a suite of new executives, Xytech has launched its Media Operations Platform™ that helps media producers of all sizes streamline their workflows
Chatsworth, California — October 12, 2022 — Xytech has launched its new Media Operations Platform™ for content producers across media, broadcast and technology companies. With new executive leadership and strategic direction, Xytech's Media Operations Platform™ provides one command center for all media, broadcast and production teams to create and deliver content, orchestrate people, resources and facilities, and plan logistics on time, on schedule and on budget.
With the explosion of content creation across both traditional and nontraditional media organizations, there's an accelerated need for media teams to have a single platform to manage all the people, equipment and assets required for production. The Xytech Media Operations Platform™ provides the most comprehensive set of solutions to address each entities' specific business needs, while also maintaining the ability to integrate natively with an infinite number of solutions.
The Xytech Media Operations Platform™ provides a centralized command center to schedule, manage, store and account for Media Transmission, Personnel Management, Media Asset Management, Resource Management and Media Workflow.
"When listening to our customers, we heard the need for a deeply integrated, comprehensive solution that manages their entire media lifecycle. We are excited to share that the Xytech Media Operations Platform does just this. Not only has consumption increased through the growth in the number of traditional outlets that many of the industry's tools were built to serve, but it has also increased exponentially due to the types of industries using video content and the platforms delivering it," said Keith Buckley, Xytech's CEO. "Xytech is uniquely positioned to help companies of all sizes and calibers get an end-to-end view of the media production process."
A New Leadership Team
​Earlier this year, Xytech announced its new CEO, Keith Buckley, who has more than 30 years of experience in the media industry. Following this news, Xytech has expanded its executive team to include four new members.
David White has been named Xytech's Chief Product Officer. White brings more than 25 years of experience leading product teams in enterprise software, delivering innovative deployment of automation to help creative professionals collaborate better, work faster and deliver high-quality results.
Michael Boch has been appointed Xytech's Chief Financial Officer. Boch, who has 30-plus years of experience in finance, started his career at public accounting firm KPMG and later transitioned into the private sector. For the last 20 years, Boch has worked primarily for high-growth software technology companies.
Shyna Zhang has been named Chief Marketing Officer. Zhang has a background in helping grow businesses across segments, geographies and industries. She previously has built marketing teams at companies like Marketo and Microsoft.
Melinda Chudleigh has been hired as Xytech's SVP of People. With nearly 20 years of experience in HR, Chudleigh has a strong human resources background with broad global experience.
With more than 400 global customers — including CBS, FOX and Sony — running their operations through the Xytech Media Operations Platform™, Xytech is uniquely positioned to expand to address additional technical and business needs as the media operations landscape continues to evolve.
Xytech will be exhibiting the Xytech Media Operations Platform at booth 1218 during the upcoming NAB Show NY from October 19–20 at the Javits Center.
About Xytech
​Xytech provides media, operations, and production teams with a Media Operations Platform that helps them scale by efficiently managing people, resources, and assets on time, on budget, and on schedule. ​ Xytech creates intuitive solutions for Media teams to have one command center to manage all assets, people, resources, and facilities in one view. Xytech's Media Operations Platform delivers the most comprehensive platform, with the deepest expertise, with the most integrations. Xytech delivers operations expertise to over 400+ global customers like CBS, FOX, and Sony who run their business on the Xytech Media Operations platform. For more information, visitxytechsystems.com.

Katie Kailus Public Relations, Hummingbird Media, Inc.

Shelby Coppola Public Relations, Hummingbird Media, Inc.
Sarah James European PR Manager